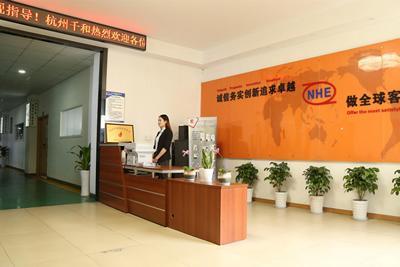 Founded in 2006, Hangzhou Qianhe Precision Machinery Co., Ltd. is a leading enterprise in the design, manufacturing and sales of a wide range of fully automatic wire winding machine special components. Our product catalogue includes wire tensioning devices, wire guide nozzles, air nipper cutters, pneumatic wire strippers and more to serve automatic wire winding equipment used in transformers, inductors, relays, electrical motors, sensors, voice coils, ignition coils and more.
Our products have been used in automatic wire winding equipment produced by world renowned companies, including Japan NITTOKU, Tanaka Seiki, Nidec, Panasonic, Sumida, TDK, BOSCH, and Delta. We sell to customers in over 29 countries and regions, largely due to our reputation for top quality products.
Supply ability
The production workshop of Qianhe is equipped with a CNC lathe, digital readout milling machine, precise grinding machine, WEDM and other complete processing machines. Thanks to these pieces of equipment, production processes can be performed automatically. This can effectively control costs and satisfy your order requirements at any time.
Our company has three major product series for large-scale production:
1. Servo and magnetic damping coil winding tensioning device and tensioners: the monthly output of coil winding ST600 ST800 ST2000 tensioner is up to 1000 sets and the monthly output of coil winding magnetic tensioner is up to 4000 sets.
2. Ultra-hard material coil winding nozzle: the monthly output can reach 25000 pieces.
3. Air nippers and pneumatic cutting tools.
Among these products, for the standard types, Qianhe maintains a steady inventory. 3-7 workdays after the order has been confirmed, we will deliver the goods by air so that you can get the products rapidly. For non-standard custom products, the production period is around 20 workdays.
Quality control
All of the products produced by Qianhe will be fully inspected before delivery instead of spot checked. We conduct strict control over product quality. For example, the appearance and the smooth finish of the surface of the coil winding nozzle should be sequentially inspected under a high power microscope before delivery. Tensile strength testing and uniformity inspection of the scale of the coil winding tensioning device and tensioners should also be sequentially carried out as well.
R&D center
Qianhe has an R&D team with rich experience. Two thirds of the members have been engaged in the coil winding industry for over 20 years. They are quite familiar with the features and usage requirements of the automatic winding machine, so that Qianhe has the ability to achieve the customization of various products. Meanwhile, there will be 2-3 brand new products launched on the market every year to meet the changing demands in electrical machinery and electronic industries.
Qianhe also produces automated equipment which is used for polishing nozzles. It can ensure the uniformity and production efficiency of the nozzle products. This equipment was also developed by our R&D team.